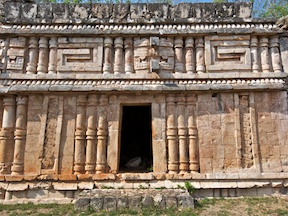 The Puuc Route is a string of four Terminal Classic sites (Kabah, Sayil, Uxmal, and Labná), all easily reached from highways south and east of Uxmal in the Yucatán peninsula's Puuc hills region. While they're smaller than their "big brother" Uxmal, they're inexpensive to visit, and an easy addition to a trip to see Uxmal itself.
A Photographer's Guide to the Puuc Route is a comprehensive guide to the ruins, with an eye toward making the photographs you take there the very best they can be.
This eBook will give you:
A road map and directions to help you get to the ruins
Four maps of the structures in the ruins (one map for each of the sites)
Photographic equipment suggestions — what I'd suggest that you take, what you can safely leave at home
A description of any photography restrictions at the site
Comprehensive descriptions (with images) of the viewable structures at the site, to help you plan your time there
Descriptions of on-site facilities (restrooms, water, etc.)
Enough historical background to help you make sense of what you see
Tips to help you make the best photos you can at the site
Exclusive buyer-only access to online supplemental content — links to additional material online, images you can download for computer or iPad wallpaper, and an editable "shot list" with maps and structure images (print it out and carry it along on your visit)
Containing 5 maps, 24 images, and 29 pages of site-specific material (if printed on letter sized paper), this guide costs $2.99. Once you purchase the eBook, write down your password (from Appendix C of the eBook), and head over to the Puuc Route supplemental page for downloadable extras.
Buy the eBook for Kindle at Amazon.com (US store, UK store, DE store, FR store), for Apple devices on iTunes / iBooks, for Nook at Barnes & Noble, and for all other devices at Smashwords.